The Church as a Means of Grace
October 24th, 2019
The Church is itself a means of grace to the world. The church extends this means of grace in two ways. One way is through extending the radical, universal, uncompromising call of the love of God for every person on the planet. The other way is through the call to transformation through the power of the gospel, the Lordship of Jesus Christ, and the work of the Holy Spirit.
Someone recently brought to my attention a sign posted at a church. The sign, as well as any church I have seen, captures the radical call of the gospel. Here is the church sign: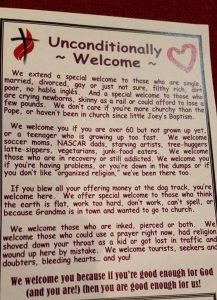 This sign is an expression of the prevenient grace of God. It is an expression of the "whosoever" of John 3:16. It is an expression of that powerful text in Isaiah 55:1, "Come, all who are thirsty, come to the waters; and you who have no money, come, buy and eat!" It is this text which Jesus himself draws on in John 7:37 when he cries out in a loud voice at the Jewish festival: "Let anyone who is thirty come to me and drink." This is the theological point Paul is making when he says in Romans, "while we were yet sinners, Christ died for us" (Rom. 5:8).
In the language of Ephesians 4:17-5:20 Paul tells the church in Ephesus to joyfully embrace the Gentile converts who were pouring into the church, who had no background in Jewish holiness codes. It must have been shocking. As the sign in front of this church acknowledges, we come to Christ clothed in what Paul calls our "old self" i.e. with dirty clothes on. We come as we are. Paul says we are welcoming those who are deceivers (vs 23), liars (vs. 25), people with anger issues (vs. 26, 31), thieves (vs. 27), people who are bitter (vs. 31), sexually immoral (vs. 5:3), etc. It sounds a lot like this sign, just some of the examples are different. We do come just as we are – but Christ transforms us! Paul's point is this kind of life is what you were, now you have put off those clothes and you are now clothed in Jesus Christ. The radical call of the New Testament is always tied to repentance and transformation. If we allow the radical, unconditional, inclusive call to be separated from the radical transformation through Jesus Christ, then we have fractured God's work and slip into what is known as cheap grace. It is "cheap grace" to present a gospel which does not call for transformation. It is "cheap grace" which pretends that the first half of the gospel can be separated from the second half of the gospel. It is "cheap grace" which drives a wedge between justification from sanctification. It is "cheap grace" to presume upon the grace of God while we continue to live in sin. It is "cheap grace" to separate the radical call from the radical transformation.
If you type I Corinthians 13:1 with only the left hand of the typewriter, it looks like this:
f sea te tges f e r f ages bt d t ave ve a a resdg gg r a cagg cba
But, if you use both hands, it looks like this: If I speak in the tongues of men or of angels, but do not have love, I am only a resounding gong or a clanging cymbal. (I Cor. 13:1). The church must "write" with both the left hand of radical embrace, as well as the right hand of radical transformation. If we only extend the radical, inclusive call, we actually speak in gibberish. Even though every stroke of the left hand was accurate, it takes both to speak with gospel coherence. Alternatively, if we focus inward and become separatists and judgmental, we can lose our heart for a lost world. We too, then, speak gibberish and become a clanging symbol. Both of these must be brought together to speak coherently to the world about what it means to be a Christian.
The radical call of the gospel should never be leveraged against the holiness which characterizes the church of Jesus Christ. It is a false narrative that if we speak of holiness we are denying the radical embracing love of Jesus Christ! Paul makes it very clear that those who live in darkness cannot inherit the kingdom of God (5:5). We are a transformed community. As we cross over and become full members of the baptized community of the people of God we are a peculiar people clothed in righteousness and holiness. When we come to Christ we bring with us all the same muddled thinking and unholy lives which the world has, and Christ himself sets out to transform us by his very divine presence. He has chosen the church to be a key instrument, a means of grace, for that transformation. Transformation is not bad news, it is part of the good news, because it is a call to human flourishing.
So, I praise God for this sign posted at the church. What I don't know is if there is anything on the back of that sign. If so, I hope it might say this: "But you are a chosen people, a royal priesthood, a holy nation, a people belonging to God, that you may declare the praises of him who called you out of darkness into his wonderful light." (I Peter 2:9)
---
Feedback
Please fill out the form below if you would like to provide feedback to Dr. Tennent concerning this blog entry.
Subscribe to the timothytennent.com blog